5th (Earl of Chester's) Battalion Cheshire Regiment; Knutsford & Hale Detachment of A Co. (Kelly 1914)
Cheshire (Earl of Chester's) Yeomanry, A Squadron (Kelly 1914)
3VB Cheshire (Kelly 1896)

Morris's Directory of 1874 records Rifle Volunteers (15th Cheshire) in Knutsford. The Captain, T M Davies, and the Drill Instructor, Sgt Ellingham, were both based at Heathside. (For interest, William Smith, the Trumpet Major who sounded the charge at the Battle of Balaclava – the Charge of the Light Brigade - was also based there. He lived in Knutsford until his death and has a CWGC headstone in St John's Church graveyard.)

The 3rd Volunteer Battalion Cheshire Regiment had their headquarters at Oak Terrace and they used the Sessions House as their Drill Hall. (Post Office Directory, 1878 and Kelly, 1892 and 1896)

By 1902, the Headquarters and Drill Hall of the 3rd VB Cheshires, O Company, was at Manchester road. (Kelly, 1902) It is labelled on Stephens and Mackintosh's advertising map dated 1902 and again shown clearly on the 1909 OS Map.

The drill hall has been demolished. Its site is now the Royce Court retirement apartments opposite the Conservative Club. Local people recall its use as a store and recall boxing events taking place in the drill hall.

Additional note for interest:
We have found reference to a military storeroom on King street, near Coronation Square, under the supervision of Waterloo veteran Captain Henry Hill, adjutant to the Earl of Chester's Yeomanry Cavalry, who lived at 15 King street. Until recently this was Cromwell's chocolate shop. We do not yet know when the premises ceased to be a military store, as Capt Hill's son also served in the Yeomanry.

The picture is taken from King Edward Street, Knutsford, around 1960. The drill hall is the building with the pitched roof and large doors at the very centre of the picture.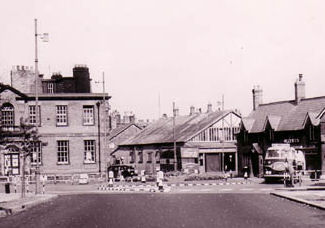 the first attempt at content
Introduction
About
Anatomy
Drill

Database

Memorabilia
Glossary
Saving Halls
Contact
What's New?
Terms of Use
The Drill Hall Project - Charting a neglected legacy