ds 'F' 5 Cheshire
5th (Earl of Chester's) Battalion Cheshire Regiment (Detachment of E Co.) (Kelly 1914)

The Drill Hall site is now a day nursery. Tne gate posts appear to be all that remains.

According to Joe Griffiths, the photograph records the drill hall in its prime and was probably taken between 1905 and 1910. It was allegedly built by Colonel Groves, part of the Groves and Whitnall Brewery Company. He lived at Deansgreen Hall, Crouchley Lane, Lymm. It was an unemployment relief scheme for soldiers returning from the Boer War. The drill hall was for the Volunteers. The crest on the apex of the building is that of of the Cheshire Regiment.

Thank you to Joe Griffiths of the Lymm and District Local History Society for the information and the photograph.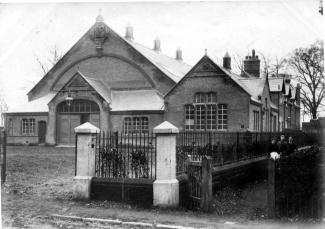 View from Booths Hill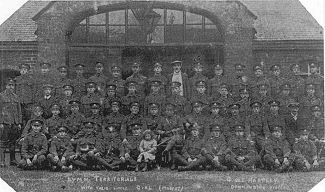 "Lymm Territorials with their little girl (Mascot)" - date of photograph unknown.