A,B & C Companies 4th Volunteer Battalion (Kelly 1986)
'The Drill Hall in Walmsley street, the property of the Stalybridge detachment ... of the 6th Territorial Force Battalion Cheshire Regiment, was erected about 1880 at a cost of over £5,000' (Kelly 1914).
The drill hall was in an area of Stalybridge called Castle Hall, which comprised hundreds of terraced houses in a grid of streets. It is marked on the OS map of 1897 on the corner of Astley street and Walmsley street, spanning a whole block of housing to the next street in the grid. Opposite the drill hall was atraingle of grass which was used for shooting practice.
Local people remember concerts in the drill hall and recall its use as a skating rink. It was also used by army cadets, then left empty and, unfortunately, vandalised.
This drill hall was demolished in the 1970s and nothing now remains as evidence of its existence.
Click
here
to read extracts from 'Streets away from Paradise' by Eli Hague where he describes his memories of the drill hall. Eli was born in 1913 so the time he is writing about is probably the mid 1920's.
Click
here
to read extracts from 'Bygone Stalybridge' by Samuel Hill, 1907.
These extracts were kindly offered by Judith Heap and we are most grateful.
Click
here
to read a newspaper cutting saved in the scrapbook of a relative of Judith Heap.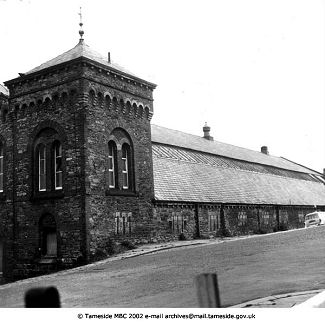 Stalybridge drill hall - Tameside archive No t11236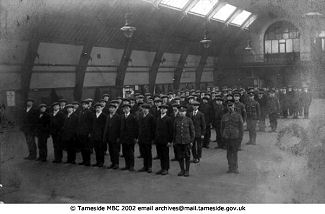 Stalybridge drill hall, First World War Recruits, Cheshire Regiment - Tameside archive No t1298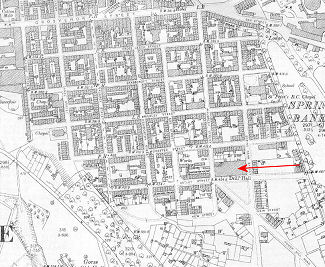 Location of Stalybridge Drill Hall - Click
here
to enlarge.