6th Territorial Force Battalion of the Cheshire Regiment, [E, F, G, H Companies] ds 'D' Sqn Cheshire Yeomanry
4th VBCR, Volunteer Drill Hall, 'D,E,F,G,H,I 4VB Shaw heath [Stockport].' (Kelly, 1896)
'The Armoury and Drill Ground, belonging to the 6th Territorial Force Battalion of the Cheshire Regiment, [E, F, G, H Companies], are at the corner of Greek street and Shaw heath; the former, erected in 1862, at a cost of £4,000, contains a regimental institute for the officers, sergeants and privates, band room, sergeant-major's and adjutant's offices, a spacious room for storing arms, and an excellent drill shed, 180 feet long and 60 feet wide.' (Kelly 1914)
K14 also lists Cadets' head quarters in King street east.
It is now in use by A squadron 207 (Manchester) Field Hospital (Volunteers) and Mortar Platoon B (Cheshire) Company The Kings and Cheshire Regiment (2005)
The completion of the drill hall featured in the Illustrated London News in 1862.
View article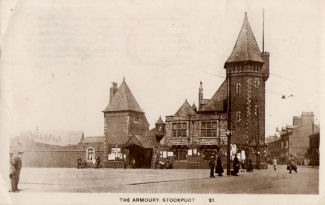 This card was posted in August, 1920. Clearly the premises were used by the local community; the sender remarks: " ...this is the view of the Armoury where all the dances are held. It is a very large place indeed." .
Click
on image to enlarge.