According to the Lostwithiel Area Action Plan, 2004 – 2024: "The Drill Hall is a large building occupying a riverside position in the centre of town. Originally built by the army as a drill hall next to the Parade in the early 1900s it was once the focus of social life in Lostwithiel and as such is valued greatly by older residents. Owned by the Ministry of Defence, for most of the last 30 years it has only been used by the army cadet force for training. There has been no regular public access and the fabric of the building has been neglected. The MOD would not be averse to selling the property as long as alternative accommodation for the Army Cadets could be found. However, with publicity over its possible removal, the building has recently attracted strong support from some local people as a unique example of its type in Cornwall."

One of the aims of their plan is: " To develop the amenity, environmental, recreational and transport potential of the River Fowey as it flows through Lostwithiel."

On presentation of the towns plans at exhibition, the proposals which related to the Drill Hall divided public opinion. 75% of respondents were in favour of its demolition, though 37% of respondents said that if the Drill Hall were to be renovated, it could be useful within the community. However: "The project team has taken note of the comments and recommend that the Drill Hall should be removed subject to the agreement of the owners – the Ministry of Defence."

This falls within medium to long term plans. The document continues:

"In the event of the removal of the drill hall the Heritage group would like to see the CCC Archaeology unit allowed as much time as they need to make a comprehensive excavation of the site.

"It has been suggested that whatever becomes of the site, if anything of interest is discovered a small area of the excavation might be preserved for the enrichment of the town's heritage.

"The way forward with this site is not yet known but its condition suggests that decisions need to be made in the near future. It is currently in the ownership of the Ministry of Defence but occupies a prominent position between Fore Street and the River."

The drill hall is still standing [May 2007] but is in poor repair.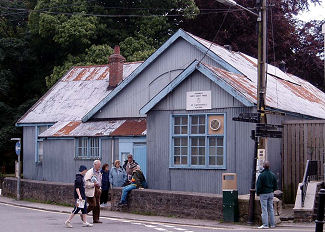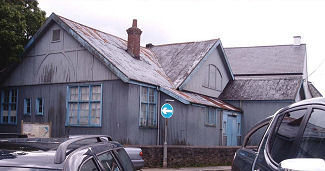 Thanks to Chris Basey for the photographs