'Cornwall (Duke of Cornwall's) Territorial Force Royal Garrison Artillery (Left Section, No. 2 Heavy Battery), Tregeseal lodge, Tregeseal.'
'4th Battalion Duke of Cornwall's Light Infantry (H Co.), head quarters, Dartmouth villa.'
(Kelly, 1914)
Now appearing derelict, recently used as the Town Hall, a large two storey stone building of no great architectural merit carries one singular giveaway to its earlier use: a similar motif to that found at Marazion, a circular device containing three guns surmounted by a crown, topped with the numerals 13, all edged by oak leaves.
A later hall, dated 1911, exists in Penzance road, a single storey building with separate rifle range to the rear, next to the vast 1938 domed replacement.
Duke of Cornwall Artillery Volunteers (9th Battery) Duke of Cornwall's Rifle Volunteers (1st J Co.), Armoury, Cape Cornwall street East Botallack. (Kelly, 1883)
"The 9th Co. 1st Cornwall (Duke of Cornwall's) Volunteer Artillery, Western Division Royal Artillery, and the J Co. 1st Volunteer Battalion Duke of Cornwall's Light Infantry have quarters here." [Kelly, 1893, states Cape Cornwall street]
There does not seem to be suitable premises in Cape Cornwall street; perhaps there was merely a headquarters building and no hall.
... gun battery, operated by the 13th (St Just) Duke of Cornwall's Artillery Volunteers ... The drill hall and battery headquarters was located in Chapel Street and is now part of the Town Hall... (Kelly, 1883)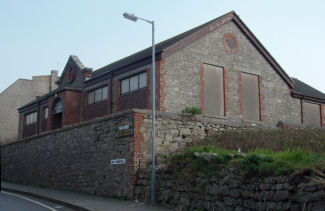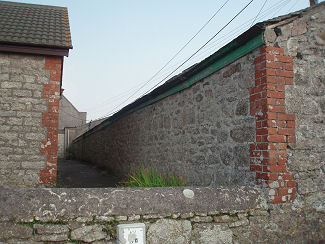 Rifle range