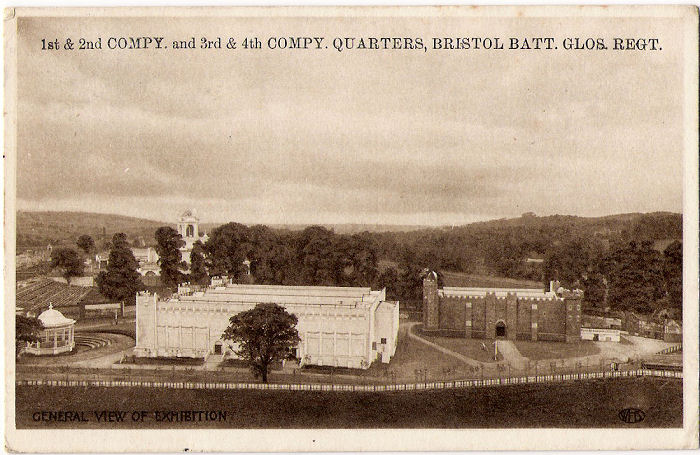 We have included this intriguing building for interest, although it falls outside the scope of the Project.
In 1914 an International Trade Exhibition was held in Bristol at Ashton Gate (now part occupied by the Bristol City Football Club ground). A number of buildings were erected , all now gone, for the purpose and the area at the time was referred to locally as 'The White City' owing to the copious amounts of whitewash used.
This postcard shows the main exhibition building which was used as a drill hall by 'Bristol's Own' the 12th Battalion The Gloucestershire Regiment prior to mobilisation.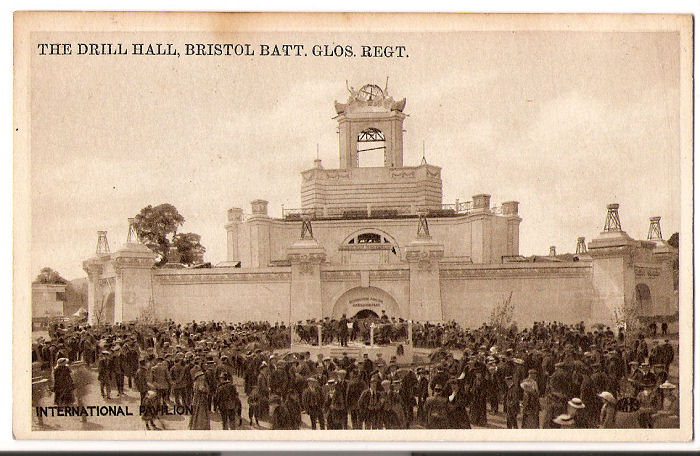 The building was purchased by the War Office at the start of the Great War, with the intention of converting them and the surrounding site into headquarters and parade ground for 'Bristol's Own' Battalion. By mid October, 1914, they comprised drill hall, dining room, canteens, sleeping quarters, recreation and mess rooms, officers' quarters and wooden barracks. Roads and paths were laid out, a rifle range was set up and a cannon was mounted in the bandstand.
Training began as soon as the Battalion was installed and the facilities remained there until the Battalion departed in mid-1915.
Thank you to David Adams for the information, which is much appreciated.