'The G Co. 5th Territorial Force Battalion Gloucestershire Regiment, have their head quarters at the Drill Hall in Boulton lane, provided in commemoration of the Diamond Jubilee of Queen Victoria.' (Kelly 1914)
We are fortunate to have been permitted to use these poignant photographs dating back to 1959, showing the Dursley Drill Hall before and during demolition.
This drill hall was built around 1828 as a chapel for a breakaway group from the Wesleyan Tabernacle in the town. By 1840 they decided to rejoin the fold and it was left empty until 1842, when it was reopened as a Temperance Hall, although only for a short time after which it housed a British School. By 1851 it was being used as a meeting place for the Wesleyan Reform Church. A few years later it was used by the main Wesleyan Chapel while their building was being refurbished. By 1865 it was again being used as a school which lasted until 1898 when a purpose-built school was constructed elsewhere in town.
In the meantime, the 11th Gloucestershire Rifle Volunteers were meeting in Dursley at the "Drill Room", which predated the drill hall. The Recruits' Drill Notice is dated November, 1869 and the three meetings each week (at 7 pm) show the level of commitment which was expected and which we have noted elsewhere.
The vacated Boulton Lane Chapel was bought by public subscription in 1898 and given to the Dursley Volunteer Rifle brigade for use as a Drill Hall, which it remained for many years before becoming a public hall prior to its demolition in 1959.
Andy Barton has kindly supplied three documents and a photograph relating to the Drill Hall in use. These can be viewed in the
Memorabilia page for Dursley
.
The photographs are copyright and used with permission. © John Shipton. Thank you. The Drill Notice was sourced by Andy Barton.
We are very grateful for the insights and information provided by Andy Barton of Dursley Glos Web
http://www.dursleyglos.org.uk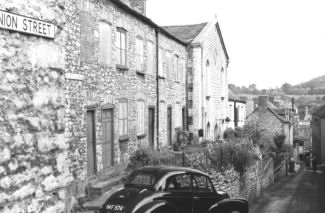 Boulton lane Drill Hall circa 1959
Photo credits Copyright John Shipton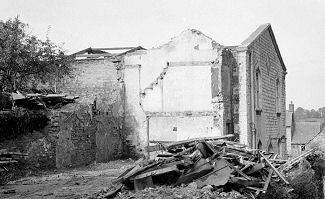 Boulton lane Drill Hall during demolition circa 1959
Photo credits Copyright John Shipton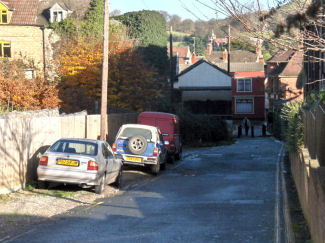 The site of Dursley Drill Hall, photographed in November 2006 by Andrew Barton.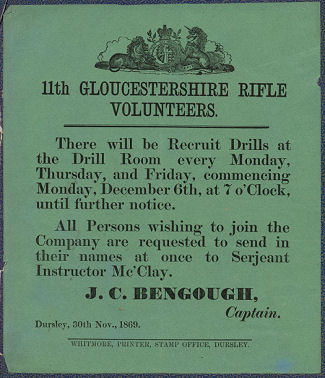 Notice of "Recruit Drills" at Dursley, 1869