'Wessex (Hampshire) Royal Garrison Artillery; headquarters, Ammunition Column, Drill hall.' (Kelly, 1911)
The Drill Hall in Cosham was originally on the south side of Albert road, adjacent to and west of the Albert Road School. It is marked on the 1897 OS map directly opposite a row of ten terraced properties and its site is specifically opposite the 4th, 5th, 6th and 7th of those houses which can still be seen on the planning maps. Both the school and this Drill Hall have gone. The school was lost to Victoria Terrace houses in 1997. The site of the Drill Hall is now Beatrice Terrace (sheltered housing) for which the planning application is dated 1986.
Our interpretation of the old maps was supplemented by information from 'The Portsmouth Encyclopaedia: A History of Places and People in Portsmouth', by Alan King, Historical Collections Librarian, Portsmouth City Libraries, published online 2006. We also used the archive planning applications of Portsmouth City Council.
The Masonic Hall on Albert road, erected in 1935, has been used for TA activities in recent memory. We would be grateful for information about any military use of the premises at 2-4 Albert street which were the Unigate Depot before conversion to the Cosham Court Nursing Home.
We are grateful to Keith Roberts for visiting the site and for his invaluable help in tracking down the 1897 map.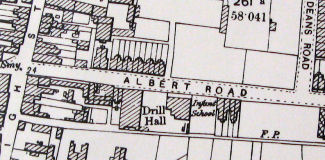 Ordnance Survey map (1897 edition) indicating drill hall