A Co. 5th Battalion Leicestershire Regiment

'A Co. 5th Battalion Leicestershire Regiment, Rifle Range road' is recorded in Kelly, 1912.
The drill hall at Ashby de la Zouch stands behind two semi-detached houses at the end of Rifle Range – now Range – road. It is currently in use by Ashby School.
We have been given information by the School to the effect that the building contained an indoor range and that the remains of a firing platform are still visible, along with the sand where the butts were. Apparently it was used by the Cadet Force and the Home Guard during the Second World War.
There was also an outdoor 30-yard range about 400 yards across the fields towards Coleorton, which is believed to have been in use in the Great War.
The above information was taken from a short piece by John Exton, Vice Chair of Governors and a former pupil, and we are very grateful to Ashby School for supplying it.
A former pupil, who left the school in 1970, remembers the Drill Hall and sent some additional comments.
There was indeed an indoor range but it was still in use by the school rifle club while he was at the school. They fired .22 rifles at targets in what he is reasonably sure was in the low building to the left behind the house. The right hand part of the house was used by the school Scouts for storage and meetings.
In his time, the school used the main part of building for teaching. It was accessed through the door that's marked with an arrow and down a short but steep flight of steps into what would have been quite a large room. This was divided into a small room (about 20ft square) with space for about 35 lads that was used as the Music Room and the rest was used as the Art Room. He thinks that the full width would have been something of the order of 30ft and the overall length would have been about 60-70ft.
Thank you to Keith Jackson for your recollections.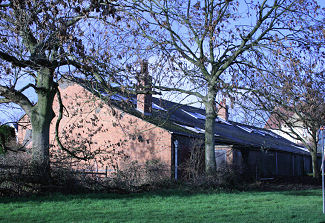 Side and rear from adjacent playing field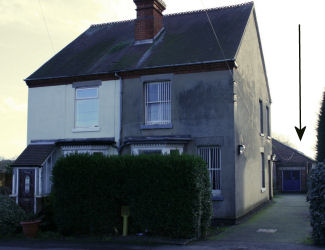 View from Range Road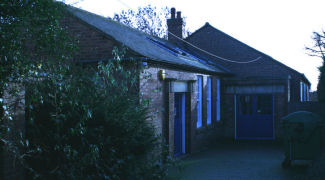 Entrance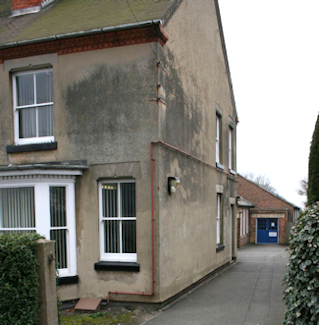 Range Road Entrance - Drill Hall to Rear
Photograph: Keith Jackson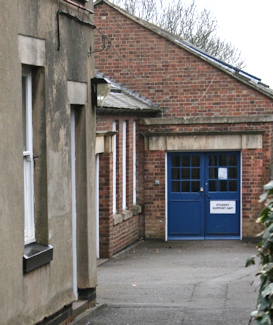 Drill Hall at Rear
Photograph: Keith Jackson