Derby road:
HQ, C Sqn South Nottinghamshire Hussars
HQ, Bty & AmCol Nottinghamshire RHA
HQ, A-H Coys 7 Sherwood Foresters
Notts & Derby Bde Coy North Midland ASC
HQ,A Sect Notts and Derby Mounted Bde Famb RAMC


Nottingham Castle and Castlegate:
HQ, A-K Companies 1st Nottinghamshire Rifle Volunteers (Robin Hood's) head quarters, Nottingham castle
Armoury & drill hall, 62 Castlegate

26 Park Row:
Nottinghamshire (Southern Nottinghamshire) Yeomanry Cavalry head quarters,


The listing above is taken from Kelly, 1891. In 1904, he adds that, 'The Southern Nottinghamshire Hussars (Imperial Yeomanry) have head quarters in Park row. The "Robin Hoods," 1st Nottinghamshire Rifle Volunteers, have their head quarters at 168 Derby road, where also is the armoury; the rifle range is at Trent.'

On Thursday Dec 14 1893, The Times reported that, 'The Duke of Cambridge visited Nottingham yesterday for the purpose of opened a bazaar to raise funds to clear off the debt on the drill-hall of the Robin Hood Rifles.' Nottingham was not unusual; bazaars and other fundraising events were common as committees faced the problems of paying for drill halls which had been constructed.

The premises at 174 Derby Road were subsequently used as a postal sorting office, and eventually came on the market in 1985. The selling agent's description is interesting:

"No.174 Territorial Army Headquarters and attached railings GV II ... Territorial army headquarters, now disused. c1910. Red brick, with ashlar ground floor and dressings, and flat asphalt roofs. Baroque Revival style. Plinth, rusticated angle pilasters, eaves cornice and coped parapet, with balustrade above the centre. 4 storeys including rusticated ground floor. 9 x 5 bays. Windows are glazing bar sashes, with elongated keystones on the first and second floors. Slightly projecting centre, 3 bays, divided by Ionic pilasters. Tripartite windows, pedimented on the first floor, flanked by single windows. Above again, a Diocletian window flanked by round windows, all with foliage surrounds. Basement has a central round-arched rusticated carriage entrance with wrought-iron gates. Side bays have 3 windows, those to the ground floor segment-headed. Returns have regular fenestration. The second bay is flanked by rusticated pilasters and has corniced and pedimented windows, that to the third floor round-arched. On the east side, an attached area railing. Inner courtyard has a central carriage entrance flanked by staircases, with a balcony and doorway above. Rear ranges, single storey, double height space, have tall round-arched openings."

174 Derby Road is currently in use as offices. (2006)

The original 62 Castlegate, which is at the high end of the street, adjacent to the Castle, is no longer there.

Allen's Guide [to Nottingham], 1888, draws attention to the Drill Hall of the "famous" Robin Hood Rifle Corps, opened 1874 and at one time a riding school, which visitors "would do well to see".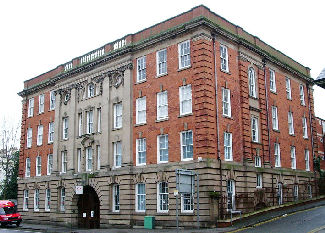 Derby Road: Oblique view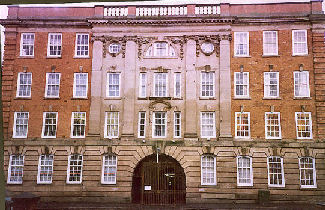 Derby Road:Front Elevation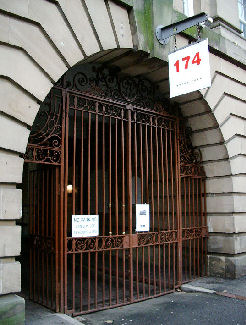 Derby Road: main entrance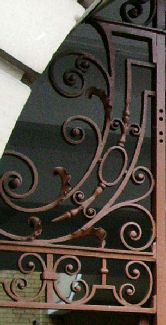 Derby Road: Detail of ironwork to entance
Derby Road: Central window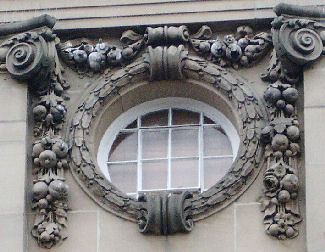 Derby Road: Circular window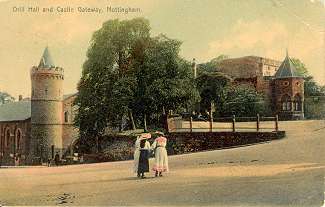 Postcard circa 1906 showing Drill Hall at Castle Gate (now demolished)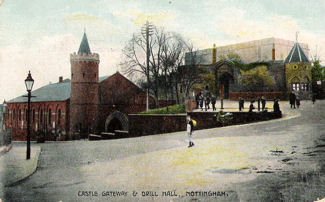 Postcard posted in 1911 showing the Drill Hall at Castle Gate.
Click
to view enlargement.