'F' 6 Duke of Wellington's West Riding Regiment
The drill hall in Castleberg was built by Walter Morrison of Malham in 1864, for the use of uniformed organisations within the community. Following a lengthy legal battle, the building is now in the possession of the local Scout unit, who are to refurbish and return the building to community use.
Thank you to John Turner and Roger Thompson for the photographs and information.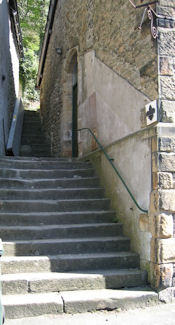 Steps adjacent to Drill Hall
Photograph courtesy of John Turner